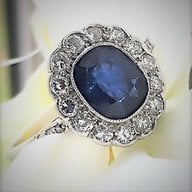 Joined

Apr 24, 2016
Messages

883
EDIT -
I think I have totally misread the point of this section. It's waiting for engagement rather than waiting for marriage, right?
Doh!
Anyway - I'll leave my story here....
My boyfriend proposed last Saturday, we've been together for 5 years and 4 months.
We have been living together for 5 years. He is wonderful

I thought he was going to propose 2 years ago when we visited NYC.
And then I thought he was going to propose last year when we went back.
But he didn't
He said he couldn't afford a ring at the time, but we have been discussing marriage for quite some time now so in my mind we were semi-engaged anyway.
It's my 2nd engagement/marriage and his first. He knew I wanted a coloured stone because my first was an 0.24 carat diamond solitaire (platinum band). It was pretty small! But this was 2004 and my ex and I were quite young. So for this ring I'd been looking at sapphires for quite some time. We'd seen some pre-loved rings at an independent jewellers near where we live and he'd started looking at auctions as well. He asked me if I'd mind having a second hand ring.
Then leap year came along and I proposed to him! He said yes but he was annoyed that I did it first because he wanted to propose to me.
We had visited Worcester (UK) with his mum (who was visiting from the North) and on our way to the cathedral we looked in the window of an antique shop.
We saw it, I loved it. We visited the cathedral and all I wanted to do was go back to the antique shop.

Afterwards when we did go back he went inside to ask about it, and I got to look at it and try it on.
He said it was a little over budget and he'd have to save up.
I thought that would be the last I saw of it
But last week he woke me up with breakfast in bed, and my ring attached to a poem inside my teacup (which had no tea in it thankfully).



No mention of setting a date yet, I'm hoping it will be within the next 2 years, or sooner.
(We're both 37 so I don't want to be too old in my wedding photos!)