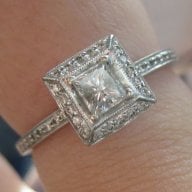 Joined

Apr 27, 2008
Messages

896
So me and my BF were hanging out last night when I brought up the fact that I don''t really want to just get married and start a family right away. We were thinking we would get married at 25-26, but I talked to him about how we could be married at 24, and then spend those first few years enjoying each other and then start TTC when were 26. Our birthdays are only a few days apart, so all these ages are for both of us. Basically, we agreed on a couple things:

1. Save getting the asscher for a little while *it would preferably be custom which=expensive*
2. get a BEAUTIFUL OEC from Erica Grace instead... MY DREAM haha
3. Get married at 24
4. Which means getting ENGAGED at 23!

WOO HOO that means I have a WAY shorter timeline! We were always planning on a 2014 wedding, but this makes it a 2012 wedding!!

Just thought I would share this tidbit of info with all you ladies because I''m pretty happy about it!