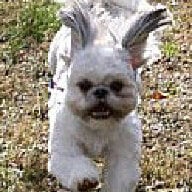 Joined

Jun 30, 2010
Messages

717
I was offered a job in another city, and it seems like a great opportunity for me. My fiance will be moving there with me, and we found a few really nice apartment complexes in the area of where I will be working. We fell in love with one more than the others, and since they are all in the same basic area, I would think that crime rates are probably about the same for all of them. Also, the other two complexes that we looked at were slightly further from my work, the rent was higher (even though the staff wasn't as nice, there were less grassy areas, and we didn't like their atmospheres quite as much), and they had no availability for the apartment size that we would prefer.

We really know nothing about this city, so we can only go by what we have seen, and what we have read online. I have never really lived in a big city, and I really would prefer to be very close to work, because driving in busy areas makes me really uncomfortable - especially highway driving, and this city has tons of highways. Most people do not take public transportation there, but if we move in closer to my work, then my fiance could drive me on most days. Even when he couldn't, I think it would be a bit less stressful to live in this area and and not one further away, since I wouldn't be required to travel on any major highways.

We were approved for the apartment, and we really love the complex. I have been looking up crime information online, and it looks like this zip code has a bad reputation. The area that it spans is very wide though, and it seems that there are good parts and bad parts. This is the 'worse' side of the city, and I can see that - the downtown area looked very unsafe (but nowhere near where we would be), and if I went in the other direction from where I would work, it doesn't look so good. The area around the complex looks pretty nice though, and the complex itself looks awesome.

I looked up crime statistics, and I found some scary things that took place at the complex. I only looked up a couple of the roads there, but even in just looking at that, I found one burglary, a few thefts (mostly from cars), a sexual assault, and a few arrests, etc. I know that can happen anywhere, and the burglary was about 1.5 years ago. I didn't look at the rest of the complex, so I have no idea what happened there. One of the thefts (from inside a car), the sexual assault, and an arrest all took place at the building that we were planning to move into, but I don't think that they were very recently.

I have no idea how common this is in apartment complexes, or whether this is a really bad rate or anything. I grew up very sheltered, and I just don't want to unknowingly move into a really high-crime area. My biggest concern is that the apartment that seems perfect for us is on the ground floor (three bedrooms, which we would prefer, and available at the exact right time for us), and it faces the back, toward a treeline. It does not have a patio, but I still am concerned that it's an easy target. We would definitely have renter's insurance, but I am honestly mostly worried about something happening to my dog if there was a burglary. He is not a scary or vicious dog at all, and I am afraid that he would run out the door and get lost, get hurt, or maybe even be taken by the burglars. That might be a little bit far-fetched, but I wouldn't even be able to function if something happened to him.

While my fiance does work from home, we would still go out sometimes, and he would likely be driving me to and from work. He would also run some errands here and there throughout the day, and maybe even go on a short business trip or two over the course of a year. He has some really nice electronics items (big-screen TVs and high-end computers), and I know that others would see them, since we wouldn't be living with our blinds closed constantly.

We would also definitely get a security system, and leave lights and/or the TV on when we weren't home. I'm not sure how much that all deters crime, and that's what worries me.

We would really like a three-bedroom apartment, because we would need separate bedrooms (he snores really loudly), and he would need an office to work from home in. We could squeeze a two bedroom with a sun room, and put one of our desks in the living room, and the other in the sun room, but it would be a tight squeeze, and we wouldn't be able to bring our exercise equipment.

Unfortunately, the only three-bedroom options that are available in our time frame are on the first floor. We could take a front-facing one, but I'm not sure how much better that would be. There is one upstairs two-bedroom with a sun room available right now that faces the back, but it would be a tight squeeze for us, and we would have to start paying rent a month early. There is also one last two-bedroom with a sun room will be available around when we would need it, but it faces the pool (higher rent for something that we don't want) and is a lot less private.

The other option is to move into the ground floor apartment, and then move (for a fee) to an upstairs apartment when one comes open. At this point, we would probably take any upstairs apartment, regardless of where it faces.

We actually love the apartment that is available right now, because there is some grass before the trees, and it seems like a nice little place to hang out. It would be very easy to walk my dog, and it seems quaint and nice. If it weren't for crime worries, it would be our dream.

Don't get me wrong, because this complex is extremely nice, and just by looking at it, it seems luxurious and safe I probably wouldn't even think twice if I hadn't looked online and found that some people think that this zip code is so bad, and that there are crimes reported in this complex. Like I said, I understand the stigma in part because I did see some bad areas around, but some people said that they would prefer to not live even in the area that we are planning to move into. Others said that it's great and even nicer than the 'better' parts of the city, but others said that it's still not good. I do know that a lot of their issues involve the school system and apparent gangs there, but my fiance and I don't have any children yet.

Does anyone have any thoughts? Should I expect to find some crime reports in any complex, or is this really concerning? Are ground floor apartments almost always the ones that are targeted? Should we move to the 'better' part of the city, even though I would be terrified to drive to work every day, and it would probably also be very inconvenient?