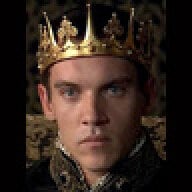 Joined

Jan 21, 2008
Messages

6,186
I have a friend, let's call him, um, Danny. No, he's not a child. But he suffers from depression, usually very mild and controlled by medications.

The medication is fine (a PITA to get, but he gets the job done). However, he does have side effect, not bad, just inevitable.

He's very young at heart. If you met him, and thought about it for a while, you'd probably think of him as very kind, well meaning 17 year old.

He doesn't have great social skills (although he can be very social and charming on occasion). He's not really capable of taking care of himself, by himself, but we all live in a society, is it not true.

So, netnannies, this is the thing:

His partner, his mother, his grandfather, and his aunt (the latter two are ailing and can't, through no fault of their own, give him advise, but probably would feel like his partner and his mother, if they weren't ailing, and could be asked their opinion, which again, they can't) think:

1 .Danny isn't doing his part.
2. Danny isn't doing things he could be doing.
3. Danny is doing some things that are wrong (i.e. he tried to quit smoking, but he fell off the wagon).
4. Danny is relying on his partner and mother to do things he should be doing himself.
5. Danny feels a little overwhelmed and his partner and his mother are angry.
6. Danny feel lonely because he feels his partner and his mother's anger, and he can't talk to his grandfather and his aunt, and these are the four people he is closest to).

Basically, Danny is having trouble meeting deadlines, and this is making him feel even more overwhelmed. Danny is having trouble getting tasks completed. Danny is having trouble with 1., 2., and 3., so basically everyone, including Danny feels frustrated.

Danny is not a "bad" person. He would never even hurt a bug (no, it's true). Danny is a good person, but being a good person isn't enough. Danny feels limited by his condition, but his partner and his mother say he can't blame everything on it. So again, Danny feels a little overwhelmed, frustrated, and sad.

Danny wants to do his part, but on a day to day basis, it seems he doesn't get enough done, is having trouble meeting the expectations of those closest to him, and can't seem to stop relying on counterproductive behavior like 3. He tries to do something about it, but after doing this, by the next day, everything seems worse to him. It's kind of a viscous cycle.

There are a lot of kind people on PS, most of PS is women, some of PS members are mothers. Maybe you can give my friend Danny some advice about how to do better? He could use some good advice.