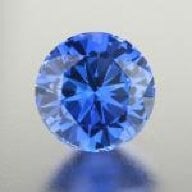 Joined

Mar 11, 2009
Messages

1,746
I think my subject says it all. My boyfriend and I are probably a little while away from getting engaged, I''m hopeful for late this year but I wouldn''t be shocked if it wasn''t for a year. I don''t really want to have a part in knowing when the engagement will happen because I will lose my mind. I''ll start getting paranoid that every little move he makes means he is about to ask and then when he doesn''t I will either flip out on him or just be miserable. Sounds sweet,I know.

I''m not sure if anyone has seen my threads in rockytalky but what I''m trying to do (and he seems very open to hearing) is to basically figure out EXACTLY what I want, hand over to him who I want him to use for vendors and walk away with a happy mind and heart knowing I gave him exactly what I want. He and I have similar taste so design isn''t a huge issue. The issue is...CHOICES!!!! Too many choices. I had pretty well settled on a design I was sure I was going to love only to later hear engraving and milgrain done on platinum/palladium will smear and disfigure over time. Super! Since my design had a lot of milgrain and engraving and I was going to use palladium as I am allergic to white gold. Yay!
Yeah that''s sarcasm you hear. I really want to put this to rest this week. My boyfriend is out of town on a hike and I want to hand over my desires when he gets back and be done questioning and thinking. I think I have another design that I may love more in mind now. I posted it on rockytalky, I have no clue how to link one post to another to show you guys what I''m talking about. I guess more than even showing the design I''m just wondering if anybody else has gone through this?
You seem like a great supportive community. I hope I will be a welcome addition.