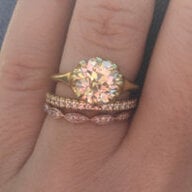 Joined

Mar 20, 2003
Messages

3,384
Our neighbor has a relatively new dog who barks all the time. We live in a row house in the city so our houses are only a few feet apart. With the weather getting warmer, the neighbors have been leaving the dog outside at night. She barks loudly at 11:00 p.m., loudly at 5:30 a.m., etc. I am ok with barking during waking hours but she has been keeping/waking us up at night. We sleep with a humidifier and a white noise machine, and it still wakes us up. This is a big and loud dog who goes crazy every time we come and go in our backyard or close the door to the addition off of our bedroom (used to be a porch); mind you, this is an interior door but it needs to be slammed to close tight.

What is the proper thing to do?

Ask our neighbor to bring her inside over night?

Get one of those bark free devices that sends out an annoying (to dogs) sound whenever she barks?