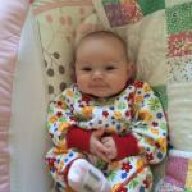 Joined

Jun 23, 2011
Messages

1,442
I'm going to try to keep this as short as possible, but I'm
and

x infinity at my ex husband right now, so no guarantees.
Ex, let's just call him Richard. Richard and I have been divorced since April of 2009. At that time, Richard was to take me off of his bank account (I couldn't, since he was primary). New DH and I just went to look at buying our own home and while I'm still on the mortgage with Richard, all payments have been made by him/his parents (more on that later) and we have a signed affidavit outlining that the house is theirs, blah blah blah. I know there's a responsibility for me if push comes to shove, but his parents are also on the loan and value their credit more than they do their own kids (no joke) so I'm not worried about it getting paid by them.
So, to further complicate issues, Richard got fired in June of 2010. Richard stopped paying child support for our two girls at that time and often complains about having no money to get them things, dodging me when I ask him to pay his half of things. Since he was fired, his unemployment claim was denied. So Richard's parents have given him a new car (2011 Camry), pay insurance, pay for a gardener for his home and give him $2500 a month for bills and groceries.
Now, back to the bank account. Richard, being the procrastinator that he is, never took me off of his bank account. So the lender for DH and I asked us to get the last 6 months of bank statements from this shared account that the mortgage payments are coming from, and my last 6 months of statements to verify that I'm not paying for his house. Today, I got said statements and I am through.the.roof MAD. As a side note, the account is now closed.
Richard has a girlfriend that he apparently has been spending anywhere from $100-$300 a month on - dinner dates, sephora makeup, Fredericks of Hollywood, movie theaters (though he never takes his children to any, I've asked him to). In addition, almost all of the other transactions are for comic stores, sunglass hut, diamondshark
gnc (for his protein powder to "bulk up"), etc.
The grocery store that he buys our kids food at is, from what I can tell, exclusively at this place called Grocery Outlet. They carry low priced/overstock/near expiration date food that is primarily boxed, processed, etc. The fresh produce and fresh meat options are non existent. My daughter complains frequently about not getting fresh fruit, etc. like she gets at our house.
So here's the thing. What can I really do about this? I WANT with every single fiber of my being to make a copy of the bank statement, highlight the inappropriate (at least to me, and absolutely to his parents) charges, and slip it into his parents' mailbox without saying a word. No confrontation for me. Just giving them the information to do what they want with it.
I realize this will make his life hell. I'm really okay with that at this point. I don't think it's fair for him to live like he is - free of any responsibility, not paying any child support or supporting himself, and burdening everyone around him. I've tried to talk to him directly about these things, and he either denies the issues, or he gets EXTREMELY hostile and aggressively attacking me verbally. I can't handle it and it appears that doing so only makes him do whatever I ask him to correct even more than before.
I just don't know what to say or do. His parents think he's helping me with things for the kids, so they resent me as well. Ugh!