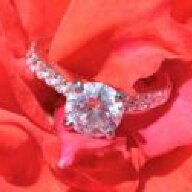 Joined

Feb 24, 2011
Messages

146
FI and I are talking about our wedding party and we are having issues when discussing my brothers. I have two brothers and a sister. Brother #1 is 15 years older than me and is a jerk. I don't have enough space to list all the reasons why he is a jerk, but he is mean-spirited and uncaring - his response to me when I got engaged via text was "Now I'm going to have to make a trip to (ugh) NJ?"

Then when he saw me in person 2 weeks later, he did not acknowledge the ring or the engagement. We really have no relationship and don't talk at all - when we do at family events, he finds some way to be a condescending jerk. He puts me in a bad mood anytime he's around and I really would prefer not to have him in the wedding. On the other hand, Brother #2 is 7 years older than me and we are very close and always have been. I absolutely want him to be a part of my wedding. I also have a sister who is 10 years older than me who will be my MOH. So, that leaves me with the whole family in the bridal party except Brother #1. My FI feels that it reflects badly on him and looks like he made that choice since they're his groomsmen and he would prefer to either have both or neither. However, I don't really like the thought of Brother #1 in my wedding. Not only is he a jerk, but he doesn't value marriage at all (he's been married 3 times, cheated in all of them). Also, when my sister got married, she did not have Brother #1 but did have Brother #2 so that precedent has been set. However, I am still struggling with the logistics of not asking Brother #1 to be a part of the wedding because I feel a bit guilty...which annoys me, because if he were just a nice person, this wouldn't be a problem, he would be in the wedding then.
I would really love to hear people's opinions on this. Here are the options I'm considering: have brother #2 as a groomsmen and be done with it OR have both brothers as ushers. What do you guys think about the situation and which option do you think makes the most sense? Any thoughts you have on the situation or any other suggestions are much appreciated! This is really stressing me out and I'm hoping for a peaceful resolution.