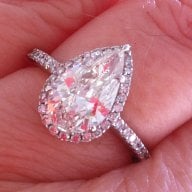 Joined

May 23, 2010
Messages

6,731
So I saw this article on yahoo about product recalls and clicked through to the Consumer Product Safety Commission recall site. After some searching, I found my Frigidaire stove (which has always sucked, only half the burners work) listed as a
fire hazard.

I had registered the product upon purchase, but nothing was ever mailed to me.
I called the company, and they are sending someone on Friday to replace some gaskets, blah, blah, blah. Whatever. I'm pretty sure the gasket problem blew out my two burners, but whatever they do probably won't fix that.
Point is: Search the website for your stuff!
There's such an endless list, it's staggering! Fancy names like
Viking, Maytag, Bosch, all kinds of brands,
appliances, etc. Hundreds of them. Check for
your washer, dryer, stove, fridge, etc.
https://www.recalls.gov/
just search in the upper left corner.
Just do it now, I know it's tedious, but you never know.
Obviously, even if you register a product, they
cannot
be counted to mail you something!
Honestly!