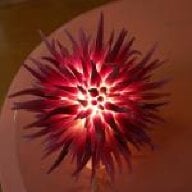 Joined

Jun 21, 2011
Messages

682
Thank you ladies for all your support even though I was only here for a couple months!
I've actually been holding out as I got my proposal last Monday! I was very surprised, which is hard to do when you know SO has the ring. It was very intimate and romantic. On Monday, our one year anniversary of living in our house, my then BF, now fiance(!) cooked us dinner, set it up on the dining room table table along with champagne and a dozen red roses all without me noticing! He changed into a shirt and tie, set the video camera up and called me in to the dining room. We barely ever eat in there, so that was the biggest surprise to me! I was just lounging around the house in PJ's since I didn't have to cook that night. I was shocked when I walked in the dining room and told him he should have asked me to change, but I was happy none the less. He loves me even in PJ's hehe

He said some sweet words and asked me to spend the rest of my life with him and I said yes of course.
The ring he gave me is a square hearts and arrows diamond in an x-prong 18K white gold setting. The diamond is 0.73 E SI1 on a size 7 finger. It's even more beautiful than I remember from when I tried it on a couple months ago. SO sparkly! I cannot stop looking at it.

I wish all of you lovely ladies the best! As promised, the pics: