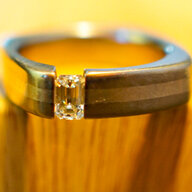 Joined

Feb 18, 2011
Messages

119
My (now) fiancee and I have been running a skydiving school almost every weekend of each of the last four summers. The one exception each year was when the dropzone closed down for a weekend and most of the jumpers would go to a different skydiving event while we would go boating and enjoy all things NOT associated with airplanes and parachutes. The basic concept of six months of 7 day work weeks got old quickly, so last year we decided to get out of the business and buy a boat, and in September I did so. Having previously been in the Navy, and then a commercial fisherman for a few years, my experience with and attraction to boats and the water is far more extensive than she developed growing up in Montana, but it didn't take me long to show her the peacefully singular experience that is inherent to being on the very bow of a boat underway…nothing to see but the water and whatever's in front of you, nothing to hear but the bow wave.
Two weeks ago, a good friend and future groomsman (Friend A) let usknow he'd be coming to stay with us for a week over the 4th of July, theoretically to escape the heat of Phoenix. Another of my potential groomsmen (Friend B) called me last week and had a sudden empty seat in his usual poker game that he hoped I would fill on short notice
. This got me to his house, where I spent the evening painting "W-i-l-l y-o-u m-a-r-r-y m-e?" on 14 colorful glass balls (Japanese style buoys). Before leaving, I choked down a cigar and gargled a bit of whiskey so I'd stink enough to keep the poker alibi intact.

Last Friday, I had the day off and my then girlfriend had to work. I picked up Friend A at the airport and he and I got instantly to work, stringing said buoys together with jute to keep them properly oriented to each other and weighting them on the bottom with stainless rod to keep the words straight and the letters pointed up. I then took Friend B's wife out on my dinghy with me, to show her a couple anchor buoys and test this collection of glass balls on it…it worked perfectly.
She took the "floating sign" home with her, I called and got the blessing of my girlfriend's father, then Friend A and I headed to the real boat, where we met my girlfriend and cruised down to a waterfront restaurant for dinner. On the way back, he drove, while she and I took advantage of the time to sit out on the bow together (when just the two of us are out, we have to take turns…no autopilot yet
). Of course when we got home, she chastised me for playing around on the dinghy all afternoon instead of doing chores around the house…friend A and I both had a hard time not laughing at this exchange, as we know annoyed women should NOT be laughed at.

Saturday was chores (and sneaking away to get the blessing of her mother), and Saturday night some fear set in as the forecast was calling for high gusts Sunday afternoon/evening…we don't boat in wind, as moorage is just too tight when we want to call it a night. I emailed everyone involved to be ready to go, but also for the backup plan in case the weather didn't comply, but these fears turned out to be unfounded. Sunday was beautiful and Friend A, the girlfriend, and I headed out for an afternoon on the boat. We found a nice place to anchor up and laid out in the sun for a couple hours, while my future best man (who'd previously cancelled for this weekend, as far as the GF knew) launched his boat 8 of our closest friends got on board with him, including what I suspect will be my other groomsman, two of her bridesmaids, and probably our officiant too. All of them were coordinating with Friend A thru text messages (alibi: "crazy new gf in phoenix") so I didn't have to direct traffic and arouse suspicion. The anchor buoy we'd planned to use was occupied, and so was our Plan B buoy. We hauled our anchor and started cruising around, but then stalled while they convinced the folks on Buoy B to let us use it for a couple minutes (instead that boat just left), at which point our friends launched the collection of painted glass buoys and patrolled around it as we began cruising in that direction.
A few minutes later, I had Friend A take the helm and casually asked my girlfriend to join me on the bow. This not being a suspicious request, she did, and maybe 10 minutes later she noticed what, from a distance she assumed was a bunch of beer in the water, attached to a buoy, presumably to keep it cold.

I asked Friend A to drive over to check it out, and as we got close she initially kind of denied in her head what she thought it said, but as she more frantically did a second and third take, she finally said in a rather disconnected voice, "Those better be for me, or I'm going to cry!" I turned her around, sat her on the rail, popped the ring out as I dropped to a knee and said my piece, and she giddily accepted as the boat full of our friends/wedding party cruised up cheering. Ring on, she cheered back at the "random strangers on the passing boat" who had just witnessed this and cheered for us, then back at me, still shell-shocked. Gradually, she noticed a song was playing too…"In Your Eyes", by Peter Gabriel, and when she did double take on the boat, she realized one of her best friends was holding a boombox overhead blasting that song, ala a particular scene in the 80's movie "Say Anything" (a running inside joke in her and my relationship). Then she realized she knew EVERYONE on that boat, most of whom had politely excused themselves from playing with us this weekend. Many laughs later, I moored to the buoy, they moored to us, and good champagne was spilt and drank by all. Awhile later, we cruised a couple miles downstream for dinner at a nice restaurant, and then headed back into a beautiful sunset, where I once again took advantage of having capable passengers to get one to drive while I took her out on the bow for a moment "in the view" (see picture below). Of course the wind came up after we dropped off all our friends at the park where they launched, so I had to go to guest moorage overnight when we got back to our marina, but all's well that ends well. I felt like I got to add some unique flavor to the process, she was definitely and pleasantly surprised (she thought I was waiting till late this year, at the earliest), and we got to share the experience with good friends. Win-win-win for all involved.

Oh, and this being Pricescope. I'd asked for her final approval on the stone after I picked it out (an AVC), but left the setting a complete surprise. I went with a Mark Morrell 4-prong petite torchiere, and all indications are that I was hugely successful in pleasing her. Pictures of the ring are up in SMTR.
Cruising back to drop off friends after our post-proposal dinner. I'm not sure why it looks like we're superimposed on it, I swear, it's not just a backdrop!
: