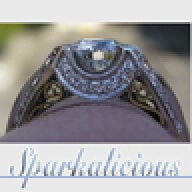 Joined

Nov 22, 2007
Messages

3,721
Aprilbaby
- Thank you, so much! I hope that I will be a stunning bride. I actually do feel quite radiant in it and that''s half the battle, right? It feels so good knowing that my fellow PSers appreciate the dress as well. I wish that I had some pictures of me in it to share. Alas ... not yet.

Freke
- They ARE like diamonds.

Hmmm ... Okay, well given that they are like diamonds, what are the 4 c''s? What''s the most important c?
(btw - I know that you will have an answer to this and please don''t say that it''s "cost"

- too easy)
- I''m thinking gold (soft gold, not too brassy or metallic)
- I would like some swarovski''s on them but if the shoe does not come with it, a brave PS friend of mine demonstrated that I can add that myself, if I''m so inclined .... I''m loving a little bling on the heel.
- Decent heel height. Not super high but not low. 3 inch??
- I''m not totally averse to colors other than gold. My dress is Ivory Silk Satin with lots of beadwork & swarovski''s so anything that matches that nicely will work.
- I found a pic of these beautiful Manolo''s but I don''t have a Manolo budget unless they are really on sale. I like the way that they these shoes twist and have sparklies etc ... I think that they match the dress beautifully.
- I might not be able to purchase them right away but I want to start looking so that when I''m able, I''ll be able to scoop them up ... fingers crossed.
- Any suggestions?
Thing
- Thank you so much! Glad you think that it''s gorgeous. Nothing like sharing something that you love and everybody thinks that it''s awful.

If it''s not fantastic ... you all will hear about .. of that, I''m certain.
and yeah ... me too! I guess that''s just the way the cookie crumbles. Thanks for the vote of confidence. I admire your taste so I''m glad that you approve.

LauraBabe
- Thank you so much! I appreciate it!