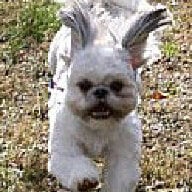 Joined

Jun 30, 2010
Messages

717
My fiance and I just moved into an apartment complex in a new city, and my dog is not loving it here. I don't know what to do, and I feel kind of guilty for bringing him here. We just brought him here on Sunday evening, but so far, he hasn't really adjusted at all. He has always been really sensitive, so this is hitting him hard.

He is not acting like himself at all. He is normally very playful, but he has only played a little bit since we got here. Every little noise scares him. He wants to spend most of his time on my lap, hiding under the bed, or even in the bathroom or under blankets. I just found him sitting by the toilet, and he whimpered when he saw me. It's breaking my heart.

He doesn't sleep well here, and he gets up and starts walking around. I wake up and look at him, and he will often be either looking at me, walking around, staring at a wall, or sitting with his head to my dresser.

He also isn't going #2 as much as normal. Whenever I take him outside, he is always nervous, and he just trots around with his tail down and then wants to head back for our apartment whenever something scares him. There is usually a lot going on outside - traffic going by, people walking around and talking, and maintenance men using noisy equipment. Sometimes he starts to circle like he's going to go potty, but then changes his mind. I understand that dogs feel very vulnerable when they go potty, so they won't do it if they feel unsafe. He is fine with doing #1 though.

I am also worried about the fact that he's not eating much. We free-feed him, since shih tzus tend to eat little bits throughout the day. He normally eats a few mouthfuls here and there, but I have only seen him take a little bit of food the night before last. I have been giving him some white bread too, since he is known to have a sensitive stomach and I want to make sure that he's eating something. He does eat that when I put it down, but he just isn't going for his food bowl. He has been drinking water, though.

I haven't gone anywhere since I got here, other than to the leasing office for a few minutes. He even follows me in the bathroom before I shut the door. I really want to be here to help him feel comfortable, but I would really like to go out with my fiance to buy groceries and also to pick out some things for the apartment. I also need to do a few things for my new job before I start on Monday, and I really want to have a manicure so that I make a good first impression.

Do you think that he will ever get used to it here and love it like home? I'm so worried. I have to start my job on Monday, and even though my fiance will be here since he works from home, I think he will totally freak out without me around. He doesn't even want to go outside at all unless I take him - if my fiance goes to get the leash, he tries to hide. On top of that, I have to go away to training for 1.5 weeks, and that starts in a week.