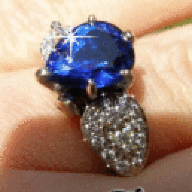 Joined

Feb 27, 2006
Messages

935
Just found out last night that my dog has diabetes.
I''m a little angry that this wasn''t defected sooner.
The vet said he''s been trying to contact us with four phone calls since December!! Don''t you think they would send a certified letter?!! if it was THAT serious that he could die????!! This doesn''t make any sense to me because Mike phone does work....
Last night we talked to him he said he''s a little over weight, so I stopped feeding him and much, last night he weight 18 pounds less than in November and he told me he''s wasting away!!!
He has been getting oozy on walks and sometime his legs will just give out and I chalked it up to his medication from the seizures, which I think it was due to his ridiculously high blood sugar count! He''s at 600 and 100 is normal. Vet says the seizures have nothing to do with it. I''m surprised he a great vet with a great reputation in the area.
MY b/f thinks that he''s had this for years, when 3-4 years ago his eye wouldn''t heal properly, he said there''s something causing this, there''s something wrong. Now, the next two weeks are critical, I have to give him insulin twice a day and take a pee test in the morning to regulate his sugar. Hopefully his sugar will gradually come down. Diabetes is fairly uncommon, it affects 1 in every 500 dogs and normally past age 7.
I really need to think positively, it has gotten bad, and hopefully the insulin will help