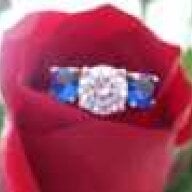 Joined

Jul 19, 2006
Messages

575
I don't post much here anymore although I do lurk quite a bit, and I am in need of some unbiased anonymous advice.

I have a lab that will be 13 in November. She is still very sweet, however, she is definitely showing her age. She has lots of lumps and bumps, she needs help getting up off of the tile/wood floor, needs help getting up and down stairs, can barely hear, is getting blind, and I've started noticing some discolored spots on my carpet where I suspect she is losing urine. Her back legs are very, very weak. We noticed about a week ago that one of her toenails was like crazy long and kind of sticking up, and she started licking at it yesterday morning, so I made an appointment yesterday afternoon to get her nails trimmed. Hubby and kids tagged along as we were going to pick up carry out on the way home. We are all in the exam room (kids included), vet tech takes doggy in the back to get her nails trimmed. Two minutes later the vet comes in the room and says "we didn't trim her nails, she has cancer." Cold. Vet tech brings doggy back in. As a lab, she is going crazy trying to get the vets attention. She never once even looked at the dog, not a pat on the head, nothing.

As I am stumbing around trying to comprehend what she said, she says that she does not do the surgery to remove the toe, but she can refer me somewhere else, it's like $2000. But if I want, she can put her to sleep right now. Just like that. In front of my kids.

We told her we needed to think about it, so we paid $55 for an "examination" and left.

Hubby and I couldn't believe it. I made an appointment at another vet to just get a second opinion.

Took her there today. Nicest people you ever wanted to meet. Vet got down on the floor and was rolling around with my dog, covered in dog hair and slobber. She did confirm that she has cancer growing at the base of the nail. She however, does do the surgery to remove the toe, and it is less than $2000. There are going to work up a price quote and call me this afternoon.

Since yesterday, this toe/tumor has started oozing; she scraped it last night on our sidewalk and it bled like crazy. It is still kind of weepy/oozy today. Vet #2 bandaged it up nicely.

So here's the dilemma:

Spend $XX.XX on a 13 year old lab to have a cancerous toe removed. Even without the cancer, she is still declining in health (although NOT in spirit) and maybe at most has another year left. As it is, she already has a lot of trouble getting around, so the removal of this toe could make that worse, or even to the point that she could not get up or walk at all-no way to tell until after the surgery. There is also the chance that his cancer has already metastasized.

or, try to work with this tumor, bandaging the foot so as to not have her lick it or scrape it for as long as we can and then have her put to sleep.

I am really torn about what to do. I am a sobbing blubbering mess, my kids are a mess. If she were younger, I would not hesitate to do the surgery. I feel like a real B**** for not spending the money on her, but I have to look at the big picture.