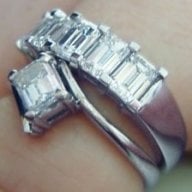 Joined

Mar 2, 2007
Messages

1,443
I''m a big music fan and have been going to gigs, concerts and festivals for over 20 years and love nothing better than seeing my fave bands live.

Soooooooo this year I have tickets to see:

* Depeche Mode - seeing them play in London in May and my hometown in December (my fave band of all time and been following them since ''84)

* Take That in June

* U2 in August

* Pink in October

* Muse - Autumn-time although tickets aren''t on sale yet

* Rammstein - hopefully sometime this year too and perhaps we''ll go to Germany to see them

* Eddie Izzard - standup comedy show in December

And any others that may come along. Not going to any festivals this year as yet although that depends on the lineup. Would love to see the Killers, as I love them and haven''t seen them in concert yet.

Any other gig-goers out there?