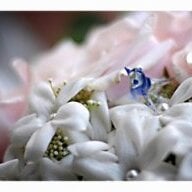 Joined

Oct 12, 2006
Messages

527
Hey Ladies..
Sorry for the following rant..I just have to get it out..
Are any of you having issues with your moms about wedding planning? My Fiance is an architect.. so naturally he is interested in helping with the planning.. specifically with the design oriented things.. for example, the save the date cards, the invitations, the cake design, and the reception decor and set up!
My mom is NOT handling this well.. she says that my FI is taking all of the fun out of the wedding for her.. that she gave birth to me.. and that this wedding is something that she and I should be planning... She basically feels like he should just nod and agree with anything that she picks out... AND if i suggest anything.. she thinks I am being his mouthpiece...
This sucks.. now, i just want to elope... and the worst part is..that she will say something that I can give her a complete logical explanation to.. and weeks later she will bring it up again as it still upsets her... she isnt listening to me..
Our save the dates, we let her address them byhand.. cuz she begged.. so we threw her a bone and let her... she spelled my FI''s brothers name wrong.. come on!! and several people didnt receive theirs... now.. no big deal whatever..
But now, my fiance wants to put together the invites (that he essentially designed) and hand address them (he has wonderful handwriting) and we cant afford calligraphy.. well my mom is sooo angry and upset.. she thinks we dont like her handrwriting and she is mad, because they are hosting the wedding (well.. the invites say they are.. but FI and I are paying for OVER half) and she isnt able to put them together.. ughh.. i dont even know what to do or say.. she doesnt get it...
She actually thinks that my FI chose my bridesmaids, because I asked one of his friends to be one of my bridesmaids... um.. can you say DELUSIONAL... she ended up not being able to do it... so I asked my future sister in law because we became very close while she was planning her wedding.. so my mom of course thinks that FI chose her.. What the heck.. its a lose lose situation for me...
I''m ready to can the whole thing and run to Vegas... there are sooo many other things that she is complaining about.. I cant even list them all.. plus.. i dont want to bore you all!
Thanks for listening.. I''m just so upset...