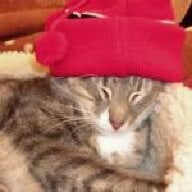 Joined

Aug 14, 2009
Messages

23,552
I paid $7600 for this pair in 2020. I'm looking to recoup $3300 - that's a full 50% off my cost.
Selling because... When I want "large white studs" I reach for my WSS, and when I want "akoya" I reach for my Mikimoto pair. These guys just
never
get worn. I've held onto them for several months with vague notions of resetting them into a ring, but... I know myself, I wouldn't wear a large pearl ring! And they're beautiful pearls - I'd love to see them loved by someone else!!
Pearls are currently loose. I can set them into brand new 14k YG stud mounts for an additional $110 (my cost for the findings).
I took these pearls to the NYC Mikimoto flagship. Here are some comparison photos - the pair for sale is labelled 9.7mm in these photos. These are nicer than the Miki 9.25mm A+ pair that I saw but not quite as lustrous as the Miki 9.25mm AA pair... But they're much better matched than the Miki AA pair. These are what I personally call "spotlight matched", meaning that they match in colour under spotlights (which is always the most unforgiving lighting environment for pearl colour disparities!!).
Surfaces are clean and smooth. There are a couple of small areas where the surface is a little flatter or a little raised - these are only visible on very close inspection.
One note: One these pearls was actually damaged when I received it. It was either improperly drilled or improperly set, I'm not sure. I received them set, and the problem area was not visible under the stud mount cup, so I only discovered the issue when I unset the pair several months after purchase. Of course now that I know about it I need to disclose to future owners! Video below. The issue is the faint half-ring around half of the drill hole. This half-ring will be wholly covered by a cup that is 3mm diameter or wider. The other pearl is pristine. I've had these pearls looked at by a trusted independent appraiser, and I was assured that the mark does NOT pose any durability or longevity or chipping risk - it's not nearly deep enough to create any structural concerns.
I'll be honest, at $7600 this is unacceptable to me. At $3300 though, I feel comfortable selling with disclosure as I think at this price we're well into "cover with a cup and forget about it" territory.
Andrew sent these to PSL for me when they were loose. Hanadama report below. The report states 9.5mm, but they're almost 9.7 per my calipers. Check out the nacre thickness and colourful Aurora image on these!!
For pricing comparisons - Mikimoto's largest akoya offering is 9.5mm.
Shop the most amazing selection of Mikimoto Akoya pearl necklaces, bracelets, and earrings - see the 9.5mm Akoya Pearl Stud Earrings in Yellow Gold. Shop JRDunn.com for timeless Mikimoto Jewelry.
jrdunn.com
Mikimoto 9.5mm A+ studs retail for $8170
Mikimoto 9.5mm AA studs retail for $12770
Large high-quality akoya are rare and expensive, and they're only getting more so. I'm completely confident stating that $3300 for pearls of this quality is significantly better than anyone could ever find retail or preloved elsewhere. I'd be keeping them if I wasn't absolutely swimming in pearls

Price listed ($3300) is firm and is for PayPal F&F or Zelle or similar. I'll take care of shipping within the US. I will include PSL report and original box, and if the buyer wants me to set them into studs I'll also include a pair of 14k YG jumbo backs at no extra cost.
LT:
https://loupetroop.com/listings/ear...ya-pair-with-psl-hanadama-report-half-drilled
- - - - - - - - - -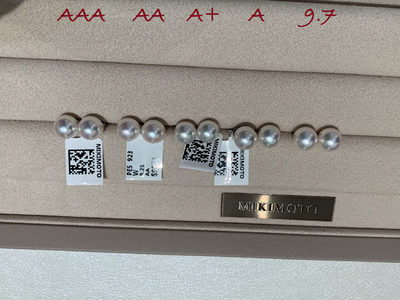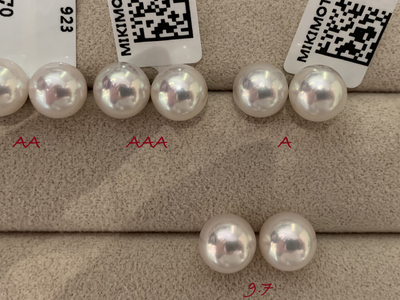 - - - - - - - - - -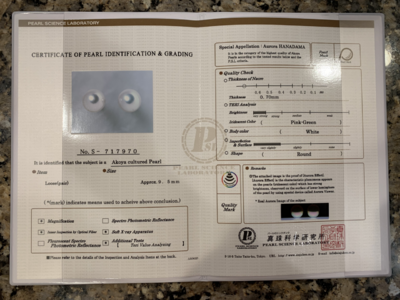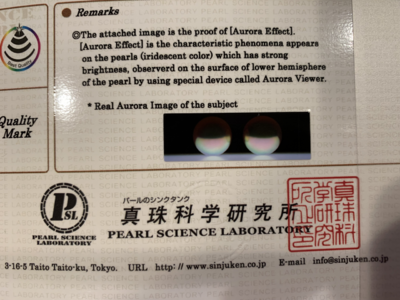 - - - - - - - - - -
One with the findings. Sorry for the dry skin
Cups are 6.3mm in diameter. Posts are 0.85mm wide and 10mm long - same as Mikimoto's.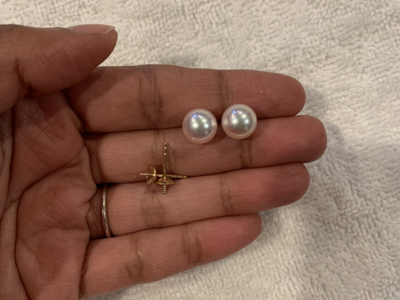 Last edited: