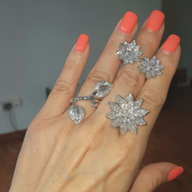 Joined

Oct 5, 2006
Messages

9,848
Where's that thread on what bugs you (?!).
I have a few mini vents. I invited some ex-colleagues round to dinner on Saturday, only those that I was rather close to when I was working in my firm. Even though we have a table big enough to sit ten comfortably, there were about 15 people altogether. The majority arrived and after a while, we decided to sit down and eat. The rest arrived later, when the first batch had finished eating. So this first batch adjourned to the living room and sat down, which is fine, because the two rooms are adjoining and this is what we normally do when we have a bunch of guests. Well, to my shock and horror, they switched on the TV (without evem asking me if I'd mind) and then proceeded to watch TV instead of talking to each other or to the rest of us!

Then, the boyfriend of one of the girls in this batch arrived, very late (like 2 hours late), barely greeted me, didn't apologise, went to get some food, sat down with the TV batch and totally ignored me, and not even asking me how I was! Well, that was the last time I invited them to our house! Appaling!!
A few of you may know that we're trying to rent out our house. This lady arrived this morning with our agent, proceeded to take pictures of our house without even as much as "would you mind if I took a few pics of yr house" and to cap it off, was about to take a pic of the dining room with me in it! Suffices to say I protested, stormed off and this lady didn't even apologise, just carried on taking the photos. She then left without even acknowledging me and left my front door wide open behind her!!

Some people are incredibly ill-mannered. It's really unbelieveable.