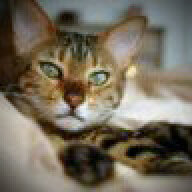 Joined

Dec 21, 2004
Messages

1,190
My husband and I decided that instead of buying each other Christmas gifts this year, we would buy ourselves a Savannah kitten (ok... well... he did end up surprising me with a gift... he''s so thoughtful and sweet!). DH has wanted one of these cats for a long time and we''d kept in touch with a breeder not far from where we live for the past four years. We wanted to take time to watch his breeding program and the cats he was producing. DH finally caught me at a weak moment and we went to see one of the kittens. Of course, we thought we''d just go "look", but I knew there was no way I''d say no to a sweet, cute, mewing little kitten.

Zoe is an F2 Savannah which means that her grandfather is an African Serval (a wild cat found in the African savannahs). These cats are known for their wonderful personality, intelligence and athletic ability. She''s so sweet and smart – very dog-like in her behavior. Follows us around everywhere, plays fetch (and actually brings the ball back) and she'll get up and play like crazy and then plop down in the doorway to our 2nd bedroon (the "cat room") half in the room and half in the hallway just like my dog used to do. However, she''s now a month older and is terrorizing our other cats. She has absolutely no fear and jumps on top of our Bengals constantly. She also takes all of their toys as hers and growls when she gets a new toy. At first I was surprised at the growling but she's not aggressive at all and after doing a little more research I found that this is a common trait in Savannahs. Poor Haley and Ghengis… they''re aren''t too pleased with her at the moment, but I know they''ll adjust to each other eventually.

Here are some photos we took of her first two weeks with us...