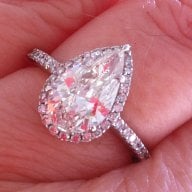 Joined

May 23, 2010
Messages

6,731
I'm sure others here know about this, but this is shocking news to me! It's my understanding that if (let's say your mother) your mother needs to go to a nursing home, and Medicaid pays for it, Medicaid can take the house after her death. It's called the "Estate Recovery Act" and varies Slightly from state to state, but it's on the books. Even if an heir's name is on the deed, it doesn't matter, unless the heir is living in the house and is under 21, blind or disabled.
So, if your parents worked hard, hoping to leave a nice inheritance for their children, it's too bad, Medicaid steps in.
EXCERPT: "In 1993, as Congress was facing budget deficits and spiraling Medicaid costs, it made estate recovery a mandatory program and ordered all states to begin collecting.
Today, Fishman says, most of the programs are small and collect less than 1% of what they spend on nursing home care.
Three states refuse to collect at all: Michigan, Georgia and Texas. Officials in those states say there are no plans to begin collecting.
Florida has an estate recovery program, but the state constitution shields the homestead from creditors. So the state doesn't file claims against homes owned by Medicaid recipients. Yet the issue is so volatile among Florida seniors that Sen. Bill Nelson, D-Fla., vowed in his 2000 Senate campaign to push for repeal of the Estate Recovery Act."
Here's a whole article on it, and if you have elderly parents, I STRONGLY suggest you read it and then google the "estate recovery act" + the name of your state to find out the specifics for your state.
http://www.usatoday.com/news/nation/2002/05/01/usatcov-medicaid.htm
Again, I'm sure this is well-known to others, but it's news to me, so I thought I'd share.