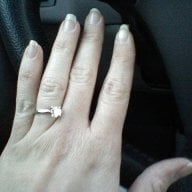 Joined

Jan 29, 2007
Messages

30
Well, I think I found my dress. I spotted it from my dressing room in the employee-only dress room. I grabbed it and slipped it on, then my mom, aunt and I began to cry. I never loved a dress so much. It''s perfect! It''s me! It''s more than I thought I''d spend.

Originally, I wrote that I didn''t want to spend more than a thousand. I just didn''t want to waste money on something I''d wear once. My family and fiance want me to have this dress, but I feel a little guilty. I just need to get over it. This is it! I know I''d feel worse never buying it!

Anyway, if I get it, I could save $300 by shipping it out of state, but I have no place to store it and alterations would be a hassle. I think that the $300 is worth having my dress kept at the shop in the safe room.

Thank you everyone for helping me. I should still check out Sabrina Ann''s bridal consignment. I guess I''d have the same storage problems if I bought my dress there. What are the other risks of buying a bridal dress from a consignment? I never bought anything from a consignment shop.

The dress is a Marissa dress. What do you know about them? It is silk satin with lace from France. The dress alone is $2051 before alterations.