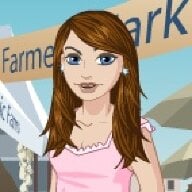 Joined

Feb 17, 2006
Messages

3,867
FI and I traveled to my parents' house and did get a little bit of wedding stuff done while we were there. We visited the cake baker my mom thought we would like, had my niece try on some BM dresses, and started looking at hotels and restaurants for our guests. The florist was on vacation, alas, and the officiant we were planning to meet with had a death in his family so we didn't get to see him, of course.

The baker was probably the most memorable wedding event we'll have though... My mom had actually picked two for us to meet, but we spent so much time with Mary we never made it to the other one. Mary is a one-woman-cake-business and she is quite the character. She is from Louisiana originally, which I picked up in her accent. Her husband is an evangelical minister, but boy, she is too... We spent two hours with her and it was about 60% Jesus, 40% cake. She very passionately described how she heard her calling to open her own business and what the lord wanted her to bake. Apparently he was right... her cakes are great! She is very devoted to making exactly what the bride wants... she does special shapes, lots of art work, etc... and she only uses buttercream, no fondant, which made me VERY happy. When we described the chocolate peanut butter grooms cake we wanted she came up with 6 different possible ways to do it, right there on the spot. She gave us some cupcakes to take home and said we'd have a tasting in April with the specific flavors we wanted. And the price? $2 a slice! HEAVEN. She prayed over us quite a bit and when she asked for my phone number I silently hoped she wouldn't ask for FI's, as we live together and I didn't want her to know! Ha.

The Bridesmaid dresses... my niece was very worried she would end up in an "old lady dress" so we went to a salon so she could try on some different dresses. I told her it was just a chance to look at some silhouettes so she could see what she'd like. Then we actually got a chance to look at the Alfred Angelo separates line and I was pleasantly surprised by both the quality and the price. Wow, so affordable! So P tried on about 10 different tops, but she fell in love with one particular skirt, which I can't find on their website, so I hope it's new and not old! I decided that this would be a good way to let the girls pick whatever they liked best for themselves in the dark navy color. My niece preferred the lighter color, so we may do a mix of both. I'm doing both blues, it's just a matter of who wears what. I was going to put the FGs in that color, but I think it would be ok to mix them.