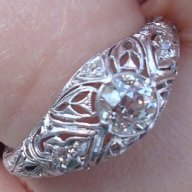 Joined

Nov 30, 2007
Messages

361
The last two weeks have been drama city for our wedding. We are less than 4 months away from the big event, and our wedding planner (affectionately known in our household as Mr No-Problem or Mr. Too-Cool-for-School)has destroyed a lot. No more ceremony venue. POOF. Gone.

Our destination Wedding Drama. Long and Short Version. Scroll for the short version

Yes, yes. Things are different in Europe. In Germany they think you''re nuts when you try to plan a wedding more than 6 months in advance. FI and I had decided on a small chapel in the Schloss Heidelberg, but ran into some trouble when we were told we could only use their photographer and he was ..... how to say it nicely.....NOT our taste. The organist was ungodly expensive. Our planner said to us, WHY get married in that dark castle chapel, when you could get married HERE. He showed us a GLORIOUS church and FI were instantly in love with it. We told him in this moment that we are not religious and are looking only for a rentable space. We want to have a friend give the ceremony that we wrote. (In Germany, the city hall is the only service that holds weight. Church is only symbolic) Mr NO-PROBLEM says..... NO PROBLEM! This was last April. He said that the church doest do their calendar until January for their OWN events but we are first on the list for outside events. OK....fine.

Of course, we always asked how things were looking with the church.....we were told we had to wait. So we waited. January 1st came and went. I wrote and asked...Mr. No- Problem says that the people he needs to talk to are away. We have the day but we have to wait for the time.

Feb, we find out that the bishop is coming to do confirmations and we were given a window of 1pm-145pm. This is when we called the church ourselves. FI talked to them and they assured us that everything would be fine with the timing. Not too many people will be there....they were making preparations the whole day with their own events beginning at 4pm. Turnover time shouldnt be any trouble. Then the next bomb dropped. "We need a letter from your priest in your hometown to book the time." BOOM. HELLO horrible wedding planner. This is your JOB. We dont have a priest. Not religious.

We have spent the last 2 weeks chasing idiot wedding planner around. We were told.... you got it....NO PROBLEM. This has been done before without this letter. he has a priest in the next town that he can talk to to approve this. He will just have to be there...NOT run the service. He will also have to approve the written ceremony. I didnt have a problem with that. We are nice people and we respect the rules. Just because we are not involved in organized religion doesnt mean we dont believe in God. This should be ok. Right? WRONG.

Finally the planner spoke with the priest yesterday. We were told this morning that they went all the way to the bishop and because neither of us is baptized (no surprise, right.) that we may not get married in the church.

No church after 10 months of being told "no problem." We were abundantly clear. No apology from idiot planner. He only says "I''ve never been in a situation where neither partner was baptized." This was his job. He showed us the place, and we never made other plans and here we are.

Of course, when it rains, it pours. 3 days ago, our officiant backed out. It is a friend, so no contract. Luckily we found another one who is more than happy to do this for us.

ARGH.

We have found a lovely rentable room without drama or church ties. Its more than double the cost, but we have no choice but to pay it at this point.

This is why I have been MIA the last 2 weeks. DRAMA DRAMA DRAMA.

The good news is that no matter what, we are getting married....even if it has to happen on a city bus.