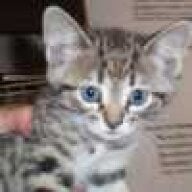 Joined

Jan 6, 2008
Messages

808
OK. I just need to vent somewhere where I know people will understand. SO is in the shower and we're going to watch a movie after he's out. So forgive me if this comes off as bratty, I'm venting as quickly as I can.
Lately, people we know have been getting engaged left and right. I'm happy for them, but also irritated that I am still waiting. Logged onto Facebook today and yet ANOTHER couple we know just got engaged. So many people in our circle of friends & family members (many cousins our age) are already married - many of them are even starting to have kids.
I feel like we will be the last couple out of everyone to finally get married. Seriously, we're one of the only couples not yet engaged. And just the other day, SO was just saying 'Oh I don't think it'll be long for x and y now' about one of the others. I think my head might explode if that happens.
I
know
it's not a race. I didn't expect to be the first to get engaged or married. But I didn't really want to be the last, either... It isn't even a competitive thing, though I'm sure it sounds like it. I just feel like it will be so 'been there, done that' for everyone else by that point. (Which isn't entirely logical b/c I know nobody else cares even remotely as much about your own wedding as you do)
I don't know. I know I'm being a brat

. I don't even think I will be waiting THAT much longer -- I guess part of it is that I've already waited longer than I would have liked to. And now I think I'm getting the second UTI I've had in two months (sorry if TMI) so I am in a bad mood to start with.
Anyway... things have been good with us overall, that aside. I'm just, personally, kind of over being 'boyfriend and girlfriend'. I'm just irritated.
/end rant