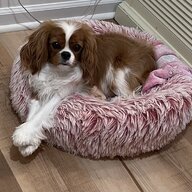 Joined

Aug 12, 2005
Messages

18,744
I'll go first:
I hate making the dog's food. We prepare a week's worth of meals at a time for our dog and I HATE doing it. I love my dog, I love that my husband came up with the system, but I hate doing the actual chore. Our dog eats both wet and dry food, and spooning out portions of wet food makes me gag every time. We are a vegetarian household so dealing with dogfood "meat" is kind of beyond gross for both of us.
I just completed this chore and needed to vent. My husband does his fair share/we take turns but still, I hate hate hate it!
What do you hate doing and wish you never had to do again, or what do you just wish would take care of itself? Maybe I should have called this "First World Problems of the Middle Class."