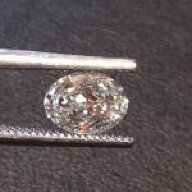 Joined

Jun 9, 2011
Messages

203
...that he knows where and how he's going to propose to me, he just needs the ring. Eeek!
I've known for a long time that we're going to get married. Not if, but when. But I didn't really peg him as the type to be planning it out so far in advance. We've only gone ring shopping once (and it's apparent I'll probably need something custom, given my tastes) so it's not like it's going to happen any day now or something...
We are going on a big camping trip in a few weeks, but I don't think that gives us time to pick out a ring. Last night we booked a trip to Hawaii for November, but I'm not sure he has anything planned for that either, since we just started talking about that vacation on Sunday, and booked it yesterday. This makes me wonder what he's got up his sleeve... He said he didn't want to tell me anything and ruin the surprise!
I am SO EXCITED!