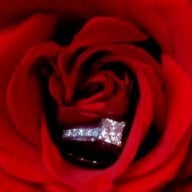 Joined

Mar 19, 2008
Messages

121
Ok - so here''s the story...which some of you have probably already read part of...
I found a dress that I loved (Jasmine f821). I was waiting to buy it so I could see a few more, confirm that it was the one for me. While I was waiting, my best friend from high school (who also got engaged on the same day as me...) picked the same dress. By complete chance. I guess growing up together gave us the exact same taste (and life timeline). I don''t want to wear the same dress, so I started looking around.
The other day, I discovered that I loved the off the shoulder look - and tried on Alfred Angelo 1148. I loved it the second I put it on. So I have been looking around online for deals and found JustPrettyBridals on eBay. I put in a "Best Offer" for $330 with free shipping (they were asking $398 and retail is around $550)....and they accepted the offer!
I was planning on trying on a couple more dresses, but I just LOVE this one and I think it was meant to be!