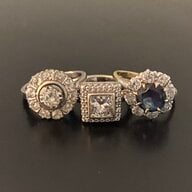 Joined

Aug 1, 2008
Messages

3,372
I''ve been trying to lose a little weight for what feels like ages. In reality, I haven''t stuck to anything in the last year and have really buckled down in the last month or so. I lost about 30 lbs after college. 10 lbs or so of it creeped back on in my 20s and it was really okay. It was a great weight. And then I got married. And in the two years we''ve been married it''s gone to heck. I realize that I should have been much more diligent with that big life change.... I also turned 30. I swear those two elements doomed me. Or so I would like to think- I realize I have to take responsibility.
Okay, enough babbling... I''ve starting hoofing it on my treadmill 5-6x''s a week for 50 mins each session for the last six weeks or so. And I''ve been watching what I eat. And the weight still seems stuck on. What am I missing here? I realize I should probably keep a food journal. But what else? How long does it typically take to see results from exercise? My goal is to lose 20, 10 by end of summer (when we go on vacation)

would rock my world.