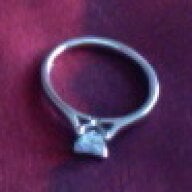 Joined

Mar 4, 2010
Messages

2,357
This is more of a rant than a post asking for advice, but if anyone wants to offer some input it would be most welcome.
I've just been offered a one-year temporary professorship back home, starting 5 days before my wedding

The job pays well and it's definitely what I'd want to do long-term, but the thought of packing up and moving from here, and preparing a bunch of classes in less than two months is pretty scary. Also, it would mean FH and I would have to spend time apart every now and again as he'd have to be back here for work during that year. I know people will say that that's not so bad, but I'm not sure that as a newlywed I'd want to be apart from my husband.
Anyway, sorry for ranting and thanks for listening