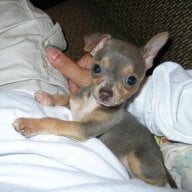 Joined

Dec 16, 2007
Messages

5,184
I was really hesistant to post this here because I've honestly got a 1 in a million chance of even tapping the surface of this...and I don't want to jinx myself...but....

My dream company has an opening for someone with my specfic experience!!!!

I mean, out of 7 expecations, I have 6 of them...which is pretty good, considering one of the requirements is someone who has worked with Sephora on product knowledge. This would be the ultimate amazing opportunty and in my field, big chances don't come along often since there are far more contenders than there are spots available.

I sent in my application this morning, and now I'll just have to try to forget it so I can focus in on my real job...but OMG, I am a ball of hope right now.

So please, dust me lots of luck...this job would change my whole life...