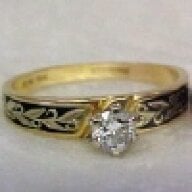 Joined

May 9, 2006
Messages

1,794
I''m heading down to Toronto tomorrow to do some shopping, and I''d like to
exploit this opportunity to look at diamonds
get a better idea of what carat size of stone I''d eventually like. I had originally wanted something in the .50-.75 range, but thanks to the sparklies of PS, I''m considering a (slightly) larger size. I would like to actually
try on
some rings, but I''m not sure if store carry display models in size 7?
So, are there any jewelery stores that are easily accessible by metro in Toronto? I''m imagining that there might be some in the larger mauls that are connected to the subway system, but wondered if anyone had any suggestions.
FF has assured me that we will a) get engaged in person, b) it will not be the same day I marry him, and c) it won''t be on our anniversary on New Year''s Eve. By elimination, this means it will happen during our spring break visit, and he has confirmed that''s when he was planning on doing it. Yes!