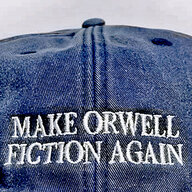 Joined

Apr 30, 2005
Messages

32,289
Thanks Tristan.
I've been studying, learned a ton, and finally bought my first two J-knives.
They are high-carbon steel, NOT stainless steel, so I have to be very careful to wipe and dry them often during use to prevent rust.
They will soon acquire a dark uneven patina that will horrify the uninformed who is accustomed to the always-new look of stainless steel.
The blades are extremely thin and of a hard pure Hitachi White #2 steel so they are brittle and I have to be careful to not throw them into the sink.
The reason I'm willing to put up with the hassle is knives with this steel can be very very thin while still supporting and retaining an incredibly sharp edge.
Selecting the right knives for you is quite personal and complex - but the results are worth it.
To say they are sharp is an understatement.
They are like laser beams. SCARY!
Even thick raw carrots yield like warm butter.
Imagining your knife falling through a raw carrot as if the carrot were overcooked.
That is the surprising sensation of using these thin knives.
I cannot express how different the sensation is cutting with these knives.
There is an odd smooth sucking sensation, as if there were some force in the food pulling the knife through the food.
Mine are not even very expensive as good J-Knives go.
The large one was $206 and the small one was $105.
They are made by Konosuke.
The large one is a 240mm Gyuto. (like a chef's knife)
The small is called a 120mm Petty. (like a paring knife)
You can spend TONS more but these are IMHO the near the least expensive fine knives of high carbon steel, especially for a noob.
The handles are of the most simple wood and buffalo horn.
I also invested in an end-grain mahogany chopping block.
End grain blocks do not wear down knife edges as fast as conventional cutting boards.
They also self-heal better, providing less of a home for bacteria.
Here are my two new treasures on some Kimono cloth I bought from a traveling Kimono exhibit.
Close up of the signature on the blade: