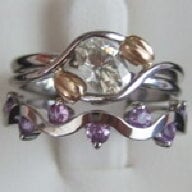 Joined

Feb 11, 2008
Messages

1,867
Today is the deadline to get some of our deposit back, and with no new job for FI in sight, we contacted them today to postpone. They were nice about it and told us that they will let us use the rest of the deposit toward a new date.
I was bummed at first, but now very excited because it gives us a chance to plan this all over again to make it what I REALLY wanted. I was getting stressed out because it was becoming a bigger deal than the simple wedding I really wanted. Now this will give us a legitimate excuse to cut out tons of people that we invited due to pressure from our family, which might allow us to move the venue to the one that we originally wanted (Much cheaper and nicer looking). We''ll still have to see if it will end up cheaper with the deposit that we will lose with the first venue.
We were adamant that we pay for this wedding ourselves, but his dad has been insisting on paying. With the economy the way it is, I don''t know when FI will find a job, and when he does I don''t know how long it will take to save up again.
We''re legally married now and I don''t want to push the wedding any longer. I told FI that if we don''t have enough money for whatever reason, I want to borrow (or accept) the money from his dad and go ahead with a winter wedding. FI is totally fine with this, and his dad is fine with it too. They are also fine with cutting out all the guests they invited but we''ve never met, which will help with the cost a LOT.
Winter will change a lot of things because it will be pitch black in the evening. So I found websites where I can buy tons of stringed lights from, and it will be perfect for our LotR theme!


I''ll also steal
Freke
''s fashion and get a fake fur stole

I feel so lucky...Who gets to redo their wedding to make it what they really wanted!?
Still, it might all change though. If it really takes us that long to find jobs, we might be too depressed to think about a wedding

Then we might change it to a renewal of vows few years down the road, and my poor dress will have to sit for years...And if we have a family by that time I don''t know if I can fit into it then...Agh, I wish that won''t happen.