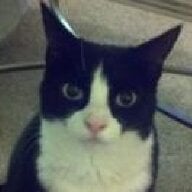 Joined

Aug 8, 2005
Messages

40,225
And my day is already shot to heck.

I am so frustrated I just want to cry.

My fiance is having a temper tantrum because he procrastinated buying an airline ticket for so long the rates have shot through the roof. So now he says he''s not giong to NJ for his grandfather''s 99th birthday. I tried to talk sense into him. But he''s not listening.

My boss is gone for the month so I''ve got her workload, and mine. And Senior Counsel here is being a COMPLETE PITA.

Plus one purchasing manager, and one supplier chain manager keep bugging me to do their jobs for them.

The VP of our department is in Europe, grumpy as he hasn''t slept in a week as far as we can tell... plus and hard to reach... and I''ve got three things on fire for him to review. But he can''t open his emails.

I lost my ATM card, forgot to report it lost. And now I''m stressed about that.

I was out of my sleeping pills (insomnia) last night so I didn''t sleep.

And I just want to rewind my day so that I''m still in bed, and call in sick. Although all this will still be waiting for me tomorrow.

*CLUCK* It might be time to do the cluck in the car again.