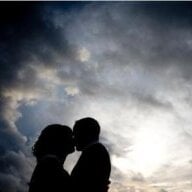 Joined

Nov 5, 2007
Messages

7,353
Short version: Can I tell my FMIL she can''t wear blue to the wedding because it''ll clash?
Long version: Out of all the people in the wedding, FMIL is the only blonde with fair skin. Everyone else has dark hair. BMs are wearing dark red. My mom picked out a coppery dress. The room is gold with orangey red gold curtains. Our colors are dark red, espresso and gold. Everything is kinda warm colored in a formal way (my interpretation anyway!).
FMIL has yet to start looking for a dress, so this is a little preemptive, but she mentioned that blue is her color (it totally is too, and she wore it to her daughter''s wedding) and I just think it''ll totally clash! Am I horrible for thinking this? Is this my first bridezilla moment?!

I probably wouldn''t say anything to her, but I might have my mom do it (they''re close friends and work together).