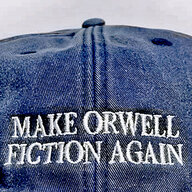 Joined

Apr 30, 2005
Messages

32,503
"Walmart announced it will close 269 stores globally as it struggles to compete with online retailers like Amazon."
http://www.bbc.com/news/business-35328098
Everything ordered online has to be delivered to your door.
I think about the carbon emissions of all those UPS and FedEx trucks delivering one package at a time, compared to me driving in my car to a store that stocks a zillion things.
And it's not just the trucks.
Relatively few things on store shelves traveled on a jet, but probably most of what is delivered to my door did.
Then, often people want it FAST so overnight means it's more likely to travel by jet.
Then, all that cardboard is from trees.
Sure,
some
people recycle but even if everyone recycled that's not the same as not cutting down zillions of trees in the first place.
Then there's the recycling infrastructure.
Overall, which paradigm do you think is more green, shopping online or at a store?
Sure, we can think of individual examples of each that are more green or less green ... but I'm talking about
overall
.
Any ideas?
This is not a trick to catch you and post the answer.
Intentionally, I have not googled it.
I just wondered if anyone cared to discuss this.
1. Which people think is greener.
2. Which really
is
greener.