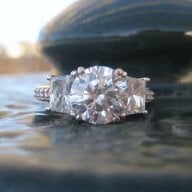 Joined

Feb 8, 2009
Messages

169
Hi Girls! I am already married but helping plan a 50th anniversary party for DH''s Aunt and Uncle..so i thought it would be okay to post here? I sell invites so naturally that is one thing that I am in charge of. I am working especially close with another Aunt to plan this event. I had everything I needed to order beautiful invites I had selected until I got a phone call from the Anniversary bride. She said to please not forget to include the following..casual attire(I can handle that) and something to the effect of "money tree available". I almost lost my lunch! and I wanted to crawl under a rock. I politely told her that I had already ordered them(little white lie but I thought the crisis would be averted) she then said okay..I''ll print it out on regular paper and cut into slips and include it with the invite! Well what do you do? We are sending out almost 300 invites! These will be going to many people that probably wont appreciate seeing this. IMO I don''t think it is appropriate to have.. let alone including it on the invite. It just makes me feel like they are begging for money and party guest may feel pressure. However, I can get past having it at the party..I just don''t want it in print!
Am I over reacting? I am sure I will just have to get over it but it really just makes me sick! Thanks for letting me vent!AAGGHH!!!

**Also, I called the the Aunt that is helping me plan(she also HATES the idea) and suggested to not have it at all on the invite but she said that she would find out! She said they are like that and want money.