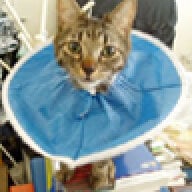 Joined

Feb 15, 2007
Messages

13,166
I'm obsessed with this website.
http://invisiblecats.com/
Does anyone have any good invisible cat photos? We should have a caption contest.
On an unrelated note: For anyone who read my wisdom tooth thread--I HAVE FREAKING DRY SOCKET! I didn't realize I had it until I went in for a follow-up today. I've had a lot of pressure in my lower jaw and ears the last four days but I wasn't in agonizing pain so I didn't call the doc. I will never eat anything with cloves again, this stuff is NASTAY! But it feels good.