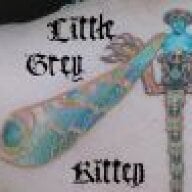 Joined

Nov 27, 2007
Messages

2,975
I would like a refund on 2011, it's sucked pretty dang hard so far. I have not wanted to post this but I feel like I need to. I lost my very loved orange boy cat, O.P., a few weeks ago. We had lost our other boy kitty Rat a few weeks before that; O.P. loved Rat with all his huge heart and I am pretty sure he simply didn't want to live without him.

O.P. stands for Orange Problem. O.P. showed up at my work one day, bedraggled and matted and with only one good eye. He was hanging out by the smoking bench out back begging for pets from anyone and everyone. And every time the door opened he tried his damndest to get inside. Finally, after all day of calling shelters trying to find one that would maybe take a cat with a bad eye (no such luck) I let him in. He cruised around the antique mall for a few hours until I boxed him up and took him to the vet, where he got a clean bill of health. When I took him home (I'd been intending to try to rehome him) he and Rat fell in love at first sight. So, you guessed it, he was quickly a permanent fixture.

Pretty much anyone would say a cat is the most solipsistic critter there is. Not O.P. He was the most generous, sweet soul there ever was. He worried about everyone and tried to care for us all. He was about twice Rat's size, and had obviously been stray for a long, long time- and Rat didn't have front claws- but since Rat wanted to be head kitty, O.P. let him with no fuss. He always gave Rat the best food, let Rat eat first, and would fake losing their wrestling matches just to make Rat feel good. (It was adorable watching tiny Rat think he'd "won" over this huge cat twice his size- he'd get all puffed up and swagger around.) O.P. always groomed Rat's ears, slept with him in a heap and they were pretty much inseparable. If I was upset, crying, O.P. would come over and look so worried, and sit on me until I felt better.

DH always I think felt like he shouldn't admit to snuggling the cats quite as much as he liked to, but I can't tell you the number of mornings I woke up, spooned up against DH, only to find DH had smuggled O.P. into the bedroom in the night and snuck him under the covers and was spooning the enormous orange cat. O.P. loved spooning, he would stretch out and tuck himself into you from neck to knees and rumble like a little jet engine.

O.P.'s amazingly sweet nature was all the more remarkable because he had obviously been abused. He had a .22 bullet under the skin of his neck (which I eventually had removed and still have somewhere), and he was terrified of black boots his whole life. It took him two years to stop flinching if you reached down and touched him unexpectedly with no warning. He never hissed or growled once the entire time I had him, he never scratched in anger ever. When I had to pill him twice a day or take him to the vet, all he'd do was twist miserably to get away, never once would he scratch no matter how provoked.

The odd thing is that although he is gone, I still feel like he's here, somewhere, still worrying about us and trying to take care of everyone. All of us- me, DH, and new kitty Dex all have seen something orange moving around the house at various times. All of us saw something orange and cat-sized run behind the cupboards (one of O.P.'s favorite hang outs) a few days ago and Dex shot over there to investigate. And several times I would've sworn I half woke up to feel O.P. playing with my hair in bed like he used to- he would Ninja Cat his way up to the top of the bed if you let him, and wrap himself around your head and start sifting through my hair. The weirdest though, was two nights ago when I was reading in bed wide awake. I had just gotten up to use the bathroom and had settled back down when I felt the bed dip like Dex had snuck in and jumped on it. I felt the blankets shift, and then, very distinctly, kneading paws on my hip. I turned on the light looking for Dex, wondering how he'd slipped in. Guess what? No Dex, he was yowling out in the living room. No kitties in the bedroom. I would swear it was O.P.

We had about 8 years with O.P. and it wasn't nearly enough- I so wish I'd been able to get him as a kitten and that he'd never been mistreated. And I really hope that somewhere, Rat and O.P. are together again.

Also last week I found out my father died. I haven't seen him since I was 16, and frankly I don't have good memories of him. My mom, however, saw fit to tell me whilst bouncing with *glee*, which seemed... disturbing, but whatever. I'm not freaking happy he died, but I'm way more upset about losing my cats, which may make me a lousy person but it's the truth. I really am kind of lost on how to react to be honest- I always hoped he'd found some peace in his life but I kind of doubt it. He was a very damaged person, and I hope that he's happier now if there is anything after this life.