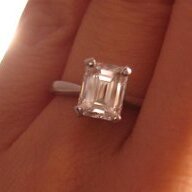 Joined

Dec 16, 2008
Messages

321
yay! finally something fun to say.
so, we''re finally going ring shopping for the first time this weekend. we are in NYC so we will be going to the diamond district.

tiffany''s was quickly ruled out, but I might take him there just for fun, since it''s only 13 blocks away.

it''s a good thing i''ve been reading a lot of stuff on this forum - I feel like i''m a bit more prepared. who knows what those vultures will try to sell us...
Also, we discussed the budget and i''m pretty excited because i have a little more wiggle room than what i was predicting. not that it would be less exciting if it were less...but with the economic downturn, i was expecting a lot less.
so, i will update you guys after that first trip. (assuming you want to hear about it). I''m going to be looking at emerald cuts.