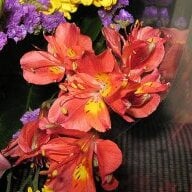 Joined

Jan 14, 2009
Messages

142
It took only 11 days to have this made. Apparently not that many people order custom works.
Btw, we ended up having the smaller stones being rounds, instead of princesses because, they cost less and I didn't really mind either way.
We also ended changing our minds about the main stone. This one is only 0.83 ct, but my ring size is only 4.75 also.
Bad pic because it was taken with a cell phone. I'm NOWHERE near a real camera right now, but I just couldn't wait to share my excitement.
I have to run to class now, but I'll try to post clearer pics with all the specs this week!
Sorry that it's so blurry.

The picture was already low in quality in the first place, I had to make it EVEN lower because it was still considered to be "too heavy" for this forum.
Ladies, go make that chicken if you haven't already! Sorry for talking about it so often, but I know now, for sure, that the chicken works.