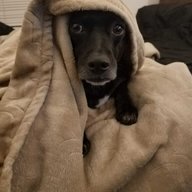 Joined

Aug 8, 2011
Messages

193
Hi Everyone! I'm a long time lurker and am now ready to take the plunge and be added to the Ladies in Waiting list!

Here's my back story:
I'm in my late twenties and my SO is in his mid 30's. We met five years ago at (I hate to admit this
) my then bachelorette party and have been together for four years now. I was engaged to my high school sweetheart at the time and while I did love him dearly, I just couldn't go through with the marriage. A week before the wedding, I broke his heart and called the whole thing off. My current SO was a dancer at my bachelorette party and he was a really good friend of my maid of honor/best friend so I already knew him, but not very well. I was always attracted to him, but I didn't know anything about him other than he was a dancer part time on the weekends which he was doing to help pay for med school (he was slated to graduate from med school within that year – which really impressed me).
About a month after my original wedding date, my birthday came around and my best friend threw me a surprise party and he was there again. We got to talking and I realized that he was actually really interesting and smart. We continued being friends for almost a year – he did try to ask me out during that time, maybe three or four times, but I wasn't ready. After a year though, I felt I was ready to begin dating again and I went out on a date with him. The rest is history.

He is one of the most selfless people I've ever met. He treats me like a queen, always puts my needs ahead of his, and is one of the most caring people I know. We dated for about 6 months before we became exclusive and during this time he left his dancer ways (which made me very happy) as he was finished with med school and was beginning his residency.
In this man, I found the love of my life. I know it may not have been the ideal way to meet the man you love, but I wouldn't change any of my decisions for the world because in the end, they led me to him. And to be honest, my life is far from ordinary. I have my degree in Mortuary Science (I'm an embalmer – weird, but I love it) – it's ok if you're skeeved out by my job, almost everyone is…that is except my SO (one of the million reasons I love him).
We have been discussing engagement/marriage for about a year now and we're closing on our first house is in less than 2 weeks!! Things seem to be progressing along beautifully and I couldn't be happier.
Therefore, I'd like to be added to the Ladies in Waiting list so we can wait this out together. Here's to hoping that all our stays are short and sweet!!