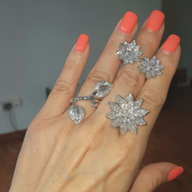 Joined

Oct 5, 2006
Messages

9,927
..and it''s too low, it doesn''t mean you''ll have to sell the item, right?

Just wondering, since I''ve never bought or sold anything on eBay.

I''m listing some jewellery items for sale, just the ones I''m not wearing often enough. I''m not desparate and do not want to sell just at any price, only if they go up to a certain price(s). If they don''t sell, I''m not fussed, but would like to sell (at my own "reserve" prices).

I may try Pearlman''s instead. Anyone has experience selling there? Care to share?