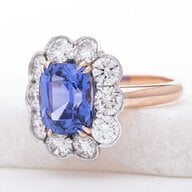 Joined

Jan 9, 2006
Messages

6,564
Whew, we''ve been busy this week!

My brother is a very talented graphic designer, and he is designing the wedding invitiations. He came up with this idea... the "A&M" (Andrea & Matthew) in the background would become a motif that would appear on the invitiations, place cards, menus and thankyou cards. The colours are inkeeping with the bridal party (champagne and chocolate). This is the front of the invite, which would open out with the A&M accross the background again, and all the wedding details printed over it in bolder writing. Best of all dad can professionally print them for me where he works on purty paper, so they''ll cost squat!! (I''ll have to get him a really good pressie for doing this!

) This is only a rough draft, but what do you ladies think??