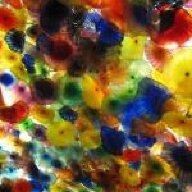 Joined

Oct 27, 2008
Messages

3,267
I just put my ring in an ultrasonic cleaner for the first time since I got in in December.
I nearly cried.
When I got it, FI had been wearing it on a chain around his neck for a week cos he was traveling and was afraid to lose it. I''ve given it the odd brush since...but never like this. It''s like I''ve been given a free upgrade! It''s doing things I didn''t even know diamonds could do!
This changes everything.