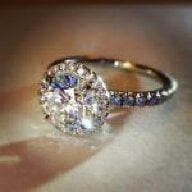 Joined

Sep 5, 2007
Messages

499
so.....i haven''t been expected an engagement really, because my SO''s still in school. but i think it might be sooner than i''ve been thinking...
let me give you guys a little history...my SO was working when we started dating but last year decided to go back to school to finish his bachelors. up until now, he''s been very shy about talking about engagement/marriage because every time we talk about our future, he gets stuck in the past and how he''s wasted so many years of his life just messing around (before he met me). it isn''t the actual marriage talk that made him upset but more the idea that if he hadn''t wasted so much time when he was younger, he would currently be in a different position. he thinks that if he had gotten his act together sooner, then he would''ve already been a position (with job stability and such) to marry me NOW. i constantly remind him that we would''ve never met if he had made different decisions in the past, and that especially with today''s economy, none of that stuff is really a
given
anymore. so i''ve almost completely backed off on the marriage talk. we talk about our future generally and about our lives together, but not specifically about getting engaged or married. i want to be sensitive to how he feels and i''m ok with waiting because if one of us in the relationship isn''t ready, then we, together, aren''t ready.
soooo...fast forward to the last few weeks. lately, he hasn''t been so shy about talking about getting married. one of his close friends just bought a ring to give to his gf. SO was telling me how excited his friend was to move on to that next stage in life and how he''s understanding that feeling now. just a few days ago, he was saying how he''s starting to get antsy cuz he wants that next chapter in his life to start sooner rather than later. he kept saying how our life together is gonna happen a lot sooner than i think and that he won''t keep me waiting much longer. he keeps saying "i''ve been thinking a lot about our future..." but won''t really elaborate. haha. he just has that
i''m thinking
-look until he says again...i''ve been thinking a lot about our future. hahaha. its so nice and refreshing to finally be on the same page as my SO.
so this is all greattttt news for me. still, i don''t expect "soon" to be next week, but i''m expecting by the end of the year. i''m so excited that he''s so excited about our future life together.
we''re finally on the same page!!!