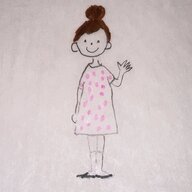 Joined

Feb 2, 2016
Messages

7,001
My husband that is. I mentioned in a past thread somewhere that he has an anger problem and he has been working on it this year. This year was significant because we almost called it quits on the marriage, I told him I just want to be happy, we have since decided to work on it and we are making progress.

So, this is not something that cropped up overnight although I turned a blind eye to it for years. It first became apparent when I was pregnant and we were having an argument about his job which escalated into him smashing his phone on the floor in front of me. Then he broke a cabinet in the kitchen by slamming it too hard. Then earlier this year he slammed out front storm door so hard he pulled the chain part at the top clear out of the wood. I was totally livid over this especially because he did this in front of our two kids. I insisted he get the drill and fix it, he argued that it didn't serve any purpose and I told him that chain was on that door for the past twelve years and I didn't care whether he believed it served a function, I wanted it fixed. He begrudgingly fixed it. This was significant though because at this point I had stopped turning a blind eye to his juvenile outbursts.


This past weekend he snapped at me and so I decided to take the dog and leave for a few hours. He apologized and life went on. Last night though he decided he wanted to get some wires out from under the tv stand leg and needed my help. As we were talking about this apparently I asked one too many questions for him and he nastily snapped at me "just forget it, never mind". So I went and sat down and when he asked what I was doing I told him I would not help him if he was going to speak to me like that. In classic fashion he said he didn't say anything mean, right but it's not what you say, it's how you say it. He was totally shocked that I refused to help him and he apologized but I told him, an apology is a great start but he needs to work on this. I wasn't mad, I didn't react, I was just matter of fact about it.

He has made progress but we have a ways to go. The difference now is that I don't just let him have these ridiculous outbursts, I call him out on it. I can't change his reaction but I can certainly control mine. Obviously I let this go on far too long, part of it was probably low self esteem on my end because when you are treated in such a way you begin to wonder if it's you. At the end of the day though he needs to be an example, we both do, because I do not want my kids to grow up fearful like I did. Time to stop the cycle.