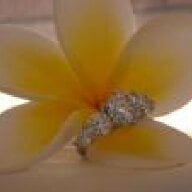 Joined

Jan 17, 2009
Messages

2,692
Well my stay here as been short but definately sweet... i just wanted to say a very quick thanks and best wishes to all, i have had alot of fun posting and reading others posts over the last couple of weeks.
But now it is over ... (or should i say, just begun!) the proposal happened on Saturday afternoon, but not before a very strange set of events that led me to ruining my own proposal!!! i didn''t snoop and i stayed out of his business so much that i had noooooo idea what was going on and i wasn''t available for the planned proposal!! lol.
But it all worked out well in the end... we went down to ''our'' beach with a bottle of sparkly and my daughter as the papparazzi

She stood there and took photos while my ff got down on one knee and said lots of lovely things about how this was our beach and how he hoped we would bring our children down here one day and end up walking down here hand in hand when we were old and wrinkled.

Of course i said yes and popped the ring on. FF asked my daughter if she was happy with us getting married and she said yes, he then got down on one knee and asked her if she would like to call him dad. It made my heart melt and my eyes tear up!
We had a few more photos, a drink and then it was off to our families to tell them the good news.

My ring is a 1.05 carat f colour si1 round brilliant in a very simple band. I love it.
If i knew how to post photos i would, but i am not very technoligically minded.

Good luck to all!!