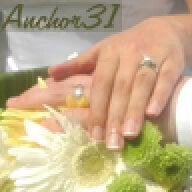 Joined

Oct 18, 2005
Messages

7,074
Ever since FI and I got engaged, all I ever seem to get from
everyone
is drama. My FILs are horrid, my sister is freaking out, my mother''s turning into a motherzilla... Planning the wedding itself is the easiest thing ever, everything''s just falling into place, but I never
ever
thought that we would have so much trouble from
both
sides of the family. I''m sick to death of it. I feel like pulling the bridezilla act and screaming my head off.
You ladies might remember the engagement party drama that happened last summer, when the FMIL demanded that my mother planned the party for her and all that... Do you remember how I said we''d elope if we had any more drama, and we''d warned everyone? Well, with all this, I''m not sure if I''m more angry at the troublemakers or
myself
... Because I can''t bring myself to make that decision. That lovely semi-formal blue August wedding we started to plan (and paid almost a thousand dollars in deposits on), it''s like a dream come true, and I want it so much (and I know FI
really
wants it too) that I can''t bring myself to make good on that promise... And I feel like I''ve letting everyone step on me.
I''ve told my sister to let me go, I''ve put my foot down and told my mother that the decisions for
our
wedding were
ours
to make and that our financial decisions were none of her business, and I''ve asked FI to deal with his parents, so in reality I''m not letting people step all over me... But I guess the pressure is getting to me. I''ve always been the "good little girl", so becoming more assertive for the good of the new family I''m building hasn''t been easy.
I''m sorry if I''m not making much sense, it''s late, I''m upset and I''m rambling... I want what''s best for
J
and I, but I don''t want us to alienate our families for it... And lately I''ve often felt like it''s us or them.
I guess I''m hoping that someone will have some words of wisdom for me... Some way to diffuse the drama, or maybe just something to handle the pressure... between that and the finals coming, the summer job hunting and the upcoming move with my FI, I feel like I''m about to explode.

Thanks all.